Nebraskanomics: Growing Nebraska's Workforce with Mike Beyer
Nebraskanomics: Growing Nebraska's Workforce with Mike Beyer
With more than 50,000 jobs currently available in Nebraska, Jim discusses ways to remove barriers to welcoming more workers to Nebraska with Navy veteran and Nebraska-licensed electrician Mike Beyer. A transcript of the discussion can be found below.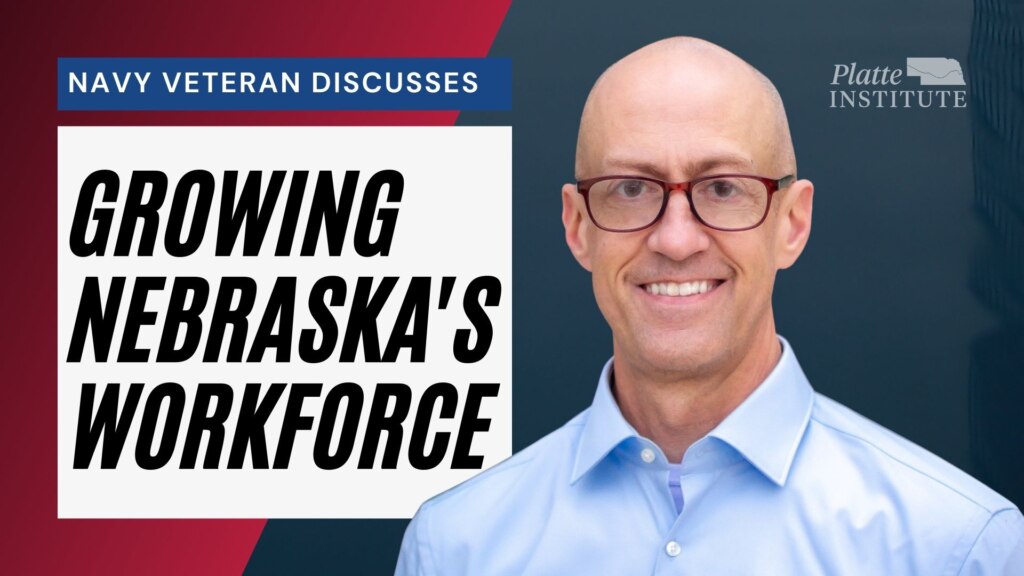 You can watch the video on YouTube or listen to the podcast episode on Apple Podcasts or Spotify.

Jim Vokal: My guest today is U.S. Navy veteran Mike Beyer. Mike served as a construction electrician supporting our SEAL teams on two deployments to Iraq. But when he came home to Bridgeport, Nebraska, he was prevented from using those skills to start a civilian career he trained for. Mike, welcome to Nebraskanomics. For those who haven't yet seen your great video, which people can find at PlatteInstitute.org, what kept you from being able to become a Nebraska licensed journeyman electrician?
Mike Beyer: So, when I was transitioning out of the Navy, I was looking at getting my journeyman license in Nebraska, and was told that any experience I had gained in the military would only count for one year experience in Nebraska. And it was basically in their rules, that that's how it was. And after being introduced to you guys through Senator Erdman, things changed, and I was allowed to take the exam. And the electrical board has kind of changed how they handled that now.
Jim Vokal: Well, it's good that we got that change, and thank you for putting yourself out there to accomplish that change. You and I, and our organization, has talked a lot about policy. But I know I would be interested and our audience would be interested as well—what was it like being an electrician for the Navy SEALs in Iraq?
Mike Beyer: It was like a lot of jobs. Had good days and bad days. Before I was with the SEAL teams, I was an electrician at Camp David in Thurmont, Maryland, and that's really how I got into the trade, learning from the guys there. And then when I got to the SEAL teams, my first deployment, I was basically on my own, wiring up buildings and doing anything they needed: getting generators going, getting power anywhere. And then my second deployment, I was part of a traveling team that put together new outstations, and if anybody had issues I would go there and fix those. So, there was a wide variety of tasks being performed while I was overseas.
Jim Vokal: I bet, and thank you for your service. That's an experience that is pretty incredible, and we appreciate you sharing your story. You've been doing such a great job getting the message out, that Nebraska should welcome people with workforce skills, our team presented you a couple weeks ago with the 2021 Connie Brown Freedom Award, and I think that you would have to agree with me that— certainly that's a big deal—but it's an even bigger deal that you finally received your electrician's license here in Nebraska. Tell us how that exactly happened and give me a sense of what that means for your career, and your family, and how that affects your community.
Mike Beyer: Right, so, after I first spoke to Laura [Ebke] with the Platte Institute, we got together and did some press conferences. And then the electrical director, Craig Thelen, emailed me. And he wanted to look over everything. I had completed an 8,000-hour apprenticeship, all my training certificates, and he thought it was more than suitable to take the exam. So, once he allowed me to take it, I passed it. And it opens a lot of doors. I work for the city right now as a lineman, but this really opens up the scope of work I'm allowed to perform for them, and it opens doors to possibly one day owning my own business. I can't do that yet, but I'm one step closer to that, and I think a lot of times that's most people's end goal is to work for themselves. We are actually expecting our second child in February, so, trying to keep things simple right now.

Jim Vokal: Congratulations, there, as well. So there's a there's a bill sitting in the Government, Military and Veterans Committee, LB263 that would have saved you a lot of grief had it passed out of committee and been approved by the Legislature. It would provide universal recognition of licensing, career experience, and military specialties workers bring from outside of Nebraska to our state. Five out of the eight senators on that committee need to vote to move that bill forward so it can receive full consideration by the full legislature, and it's a pretty politically divided committee. Given what's happened to you over the last 12 months, what's your message now for these senators as they come back to session in January and hopefully consider this bill again in committee?
Mike Beyer: My message to them is everybody keeps talking about growing the workforce in Nebraska, and things need to change to do that. There's a lot of red tape keeping people from getting licensed in professions that maybe they've been licensed in other states, or trained in the military to do these jobs, and for one reason or another they can't do it in Nebraska. And like I said the electrical board has changed their stance, but there's a lot of other professions that if it was just straight across the board— universal recognition—it would make it a lot easier.
Jim Vokal: Especially with the tens of thousands of job openings that we have in the state. I'm coming out to your neck of the woods in the early part of November, to the Bridgeport, Scottsbluff area. Can you maybe share any insights that you have as a tradesman, what the workforce shortage is having on rural communities like those in Morrill County where you're at?
Mike Beyer: Right, there's a very limited number of electricians, plumbers, contractors. Being a lineman, I deal with the electricians daily, and in this area there's only really two of them that I deal with on a daily basis. So there's a huge demand for the work, and the electricians that are here need workers, and they're having a hard time finding that. If we could bring other people in that didn't have to start at ground level, because they have these skills, I think that would help tremendously.
Jim Vokal: I agree with you 100%. And perhaps something else that will help is this recruiting campaign called The Good Life is Calling. It highlights the opportunities and quality of life available here through a series of tv ads. The ads, I think, are pretty good. But some people are still, I think, skeptical that Nebraska can recruit younger workers like you from around the country. You've had a real brush with some of the obstacles we still have in place in Nebraska, but you also sound pretty optimistic about places like Bridgeport where you live and where you're from. Do you have any thoughts for how to approach highlighting the benefits of the state while also keeping an eye on how we can maybe do better?
Mike Beyer: Bridgeport is a great small community, and it's one of those places everybody knows everybody. And if you do good work, people know about it, and you really don't have a hard time finding a job or getting a job with somebody that has made a name for themselves already. I think we highlight it by advertising the people of the area. I mean, there's great people in this state, and I think that's what makes Nebraska so great.
Jim Vokal: Yeah, hopefully this campaign can attract people to experience the Good Life here in Nebraska and have the similar experiences that you just outlined. As I mentioned before, you received the Connie Brown Freedom Award. Connie meant a lot to me personally, she was like a second mom, and I know she'd be very proud of you for winning the Connie Brown Freedom Award because your efforts represent so well what she loved about Nebraska and our country, so thank you, Mike, for all that you're doing, for your service, and for joining me today on Nebraskanomics.
Mike Beyer: Thank you guys for getting my story out and helping make a change.
Jim Vokal: Yeah, it's so critical that people like you are willing to come forward and tell their personal stories, that can help us get policy changes over the finish line down in Lincoln. And we hope that your example, we can continue with that momentum into next year's legislative session, and we can get that universal recognition bill out of committee and debated and by the full legislature and passed so that we can join other states and be more welcoming to workers that currently live outside the state of Nebraska. Thanks, Mike, for joining us today.
Mike Beyer: Thank you.
Mentioned on this episode:
Nebraska veteran wins battle for civilian career opportunity
The Good Life is Calling
The Platte Institute's Connie Brown Freedom Award