Nebraska posts gains with November 2021 state revenues
Nebraska posts gains with November 2021 state revenues
Nebraska's November 2021 state general fund revenue report shows the state continues to have good news regarding its revenue projections.
Net revenues for the month were 7.7% above forecast (approximately $40 million) while the net revenues for the fiscal year are 1.7% above the forecasted amount.
The projections in the November release are based upon the most recent forecast from October where the Nebraska Economic Forecasting Board predicted state revenue would increase for the current 2021-2022 fiscal year by $475 million and the next fiscal year by $427 million. Because the board recertified the new revenue projection at that meeting, November's over-forecast amount essentially becomes the current fiscal year cumulative amount over projections, but as the fiscal year continues, we'll likely see that figure change again.
When compared to previous years, the state is also seeing an increase in revenue collections. Net revenues for the month compared to 2020 amounts has increased by 13.23% or $63.7 million.
For the fiscal year, the 2020 to 2021 comparison is a bit misleading. It shows the state is collecting $83 million less than it did last year. However, in 2020, the tax filing deadline was changed due to the pandemic, causing this shift to occur.
Because of this anomaly, I have included a chart that shows fiscal year 2019-2020 for additional context. The below chart shows the last two fiscal years along with the current fiscal year's actual tax collections by month. This chart shows how July 2021 is an outlier, and the state is on par with what it should be collecting at this point in the fiscal year.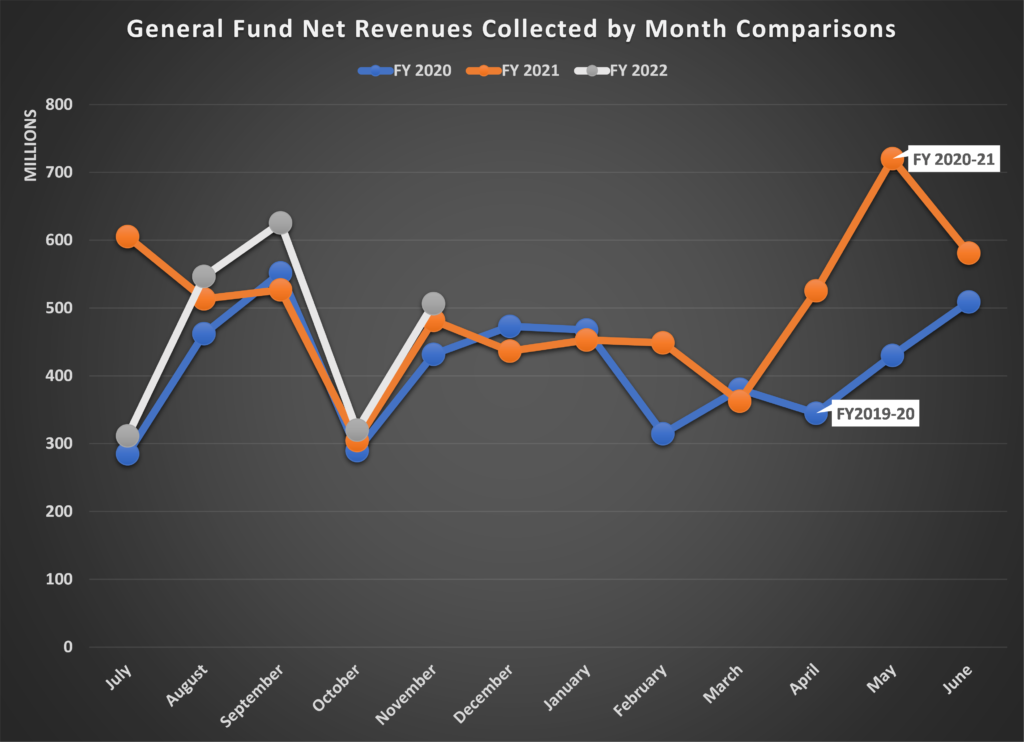 The continued strong revenue situation Nebraska is experiencing is only good news for lawmakers as they prepare for the 2022 legislative session. This year, LB432 was signed into law, which will reduce the state's top marginal corporate income tax rate beginning in 2022. Some lawmakers voiced caution about cutting tax rates amid the uncertainty of the pandemic, but revenue projections and actual collections have shown this policy will not negatively affect the state. The intent of the Legislature was to pass additional legislation to further reduce the top rate. With continued strong and positive revenue collections, that intent should be put into action.
In addition, many lawmakers and gubernatorial candidates have been touting their versions of tax reform for the state of Nebraska. It is no secret the state's antiquated tax code is in need of an overhaul. Strong revenues support reform efforts while also ensuring security for agencies that have budget items that warrant attention in the upcoming years.
Overall, the state's revenue picture could not be better heading into a legislative session, and there is no reason to believe the trend will change anytime soon.
The next monthly revenue report will be released on January 14, 2022.