Government Data Show Nebraska's Economy Shrinking – What Does It Mean?
Government Data Show Nebraska's Economy Shrinking – What Does It Mean?
Newly reported data by the Bureau of Economic Analysis at the U.S. Department of Commerce show Nebraska had negative 4 percent (-4.0) growth in State GDP for the 1st quarter of 2017 (January 1 – March 31).
That's the lowest economic growth in the country for that period. But these figures alone do not mean Nebraska is currently in a recession.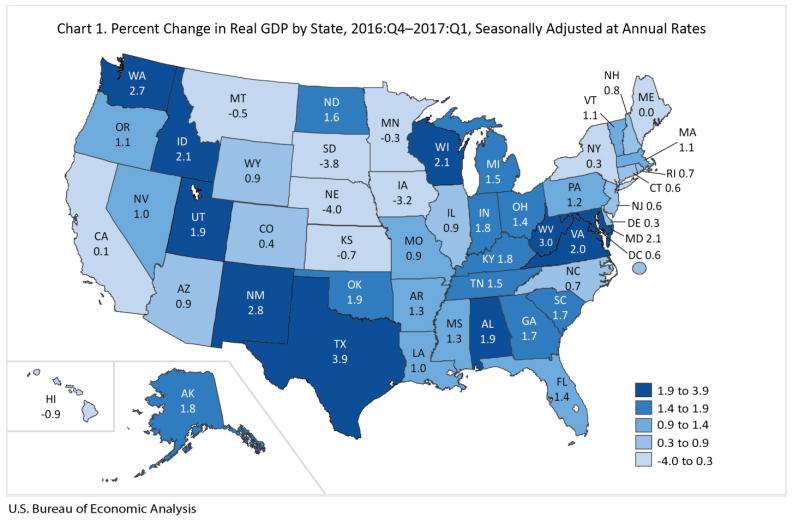 Technically, a recession is two consecutive quarters of negative growth. Nebraska had a positive 1.1 percent growth in the fourth quarter of 2016 (October 1 – December 31). If, however, the second quarter of the year also shows negative growth, then by definition Nebraska would be in a recession.
2016 saw recessions in the country's energy producing states, yet in recent quarters these states have seen a rebound. Now the heavily-agricultural Plains states are seeing poor growth.
The only Plains states to have positive growth in the first quarter were North Dakota and Missouri. On the whole, the Plains states saw negative 0.9 percent (-0.9) growth, while all other regions reported positive growth.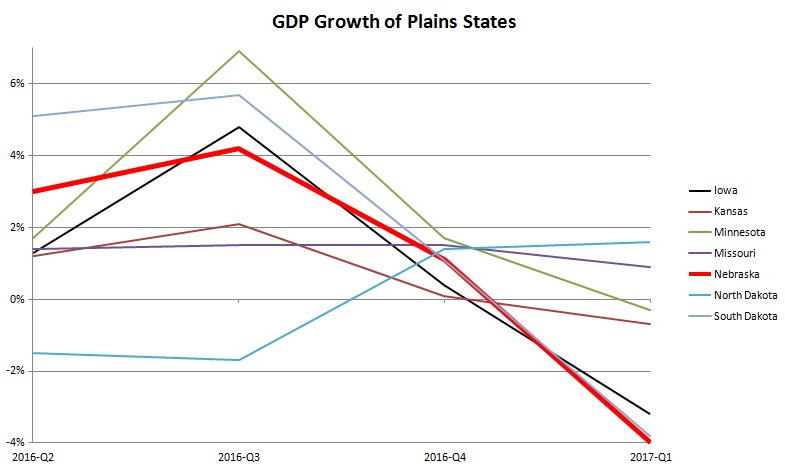 Only seven states saw negative growth in the first quarter: Nebraska, South Dakota, Iowa, Hawaii, Kansas, Montana, and Minnesota.
According to these figures, the main contributor to the negative growth comes from the "Agriculture, forestry, fishing and hunting" category, dropping 3.85 percent (-3.85).  Other areas of Nebraska's economy that saw negative growth were:
Utilities (-0.16)
Retail trade (-0.15)
Transportation and warehousing (-0.28)
Finance and insurance (-0.38)
Real estate and rental and leasing (-0.13)
Professional scientific and technical services (-0.14)
 Management of companies and enterprises (-0.13)
Arts, Entertainment and Recreation (-0.04)
Economic growth is a key measurement of improvements in the quality of life in Nebraska. It will be important for policymakers in Nebraska to keep an eye on these figures as the year continues, and to understand what these changes may signal about Nebraska's economic outlook.
Subscribe to our weekly email to stay informed about economic growth in Nebraska.