Gov. Ricketts to Talk LB461 on Telephone Town Hall
Gov. Ricketts to Talk LB461 on Telephone Town Hall
For the first time in years, Nebraska's taxpayers are going to see a property and income tax reform bill be debated by the entire Nebraska Legislature.
Find out what Nebraskans can do to help make LB461's tax reforms reform happen this year by joining our upcoming Tax Relief Telephone Town Hall.
We're honored to be hosting two distinguished guests for our call. Gov. Pete Ricketts will join Jim Vokal to discuss LB461's property and income tax reforms, while the Tax Foundation's Jared Walczak will provide his insights on why it's time for Nebraska to adopt a 21st century tax code.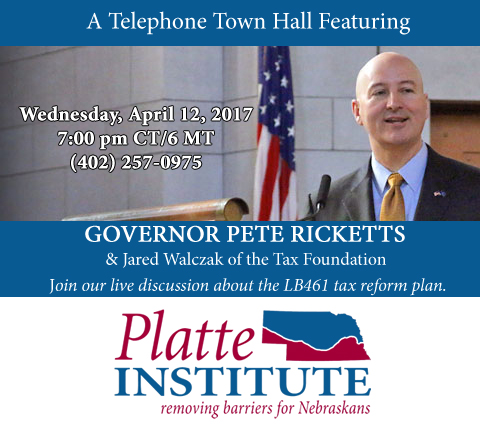 The town hall will be held on Wednesday, April 12, 2017 at 7:00pm Central/6pm Mountain. To join, just call (402) 257-0975. You'll be able to ask your questions at the town hall by pressing the * button at any time on your phone.
We hope to hear from you at the town hall! To stay updated about more events like our Tax Relief Telephone Town Hall, subscribe to our weekly email.